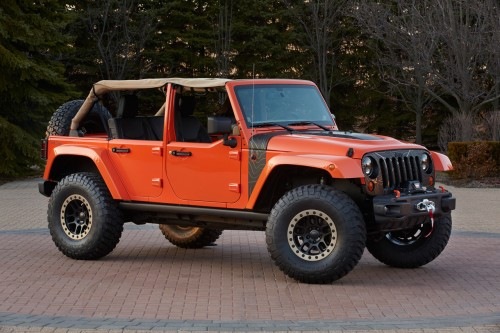 MOJO (Mopar Orange Jeep) is a pretty colorful concept JK. According to Jeep, the Mojo is geared toward the off-road enthusiast who seeks extreme trails.
Mojo comes with a 2-inch lift, Dana 44s and a 4:1 Rock-Trac transfer case. It also gets the V6 and a 59:1 crawl ratio. Additionally, the Mojo gets prototype high-top fenders, 37-inch BFGoodrich tires and beadlock wheels with a bronze ring.
The Mojo's hood is adorned with a topographical map that we guessed was either Moab or Rubicon; in fact, it was a map of Chrysler's Tech Center area in Auburn Hills, Mich. We should have know from the 129-foot elevation mark on the side.