If you own a Jeep JK, you can now purchase a Mopar lift kit directly from your Jeep dealer!
For $1500 you can get a two inch lift kit for your 2012+ Jeep JK. If you have a 2007-2011 Wrangler the lift kit is only $900 (this kit does not come with a new driveshaft). Per Jeep, a JK with a two inch lift should fit 35″ tires nicely.
If you really want to go big, you can purchase the four inch lift – that will set you back $2250.
These Jeep suspension lift kits come with:
control arms
reservoir shocks (from Fox)
double cardan driveshaft and yoke
steering damper
high steer conversion kit
Probably the best part of this kit is that it won't void the warranty of your new Jeep JK. You'll be able to purchase this lift kit, have it installed at the dealer, and roll the cost into your new Wrangler payment.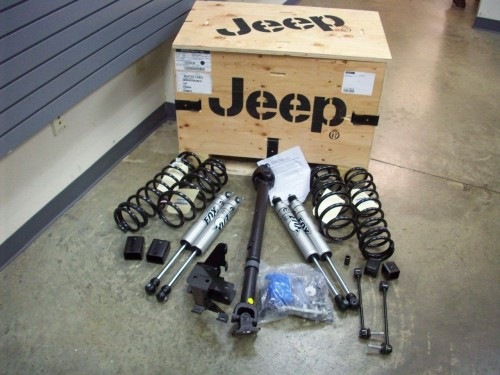 A good breakdown of these kits and their current prices can be found here
Part Numbers and details:
77070095 $1,495
Jeep 2 Inch Lift Kit with FOX Racing Shox with Front Driveshaft
Fits 2012 to 2015 JK Wrangler and Rubicon;2-door models;Max Tire Size:35×12.50;Front fixed sway bar links
Includes four FOX 2.0 IPF shocks;Brake hose relocation brackets;Adjustable cam bolts;Rear track bar bracket;Includes double cardin front drive shaft
77070088 $1,495
Jeep 2 Inch Lift Kit with FOX Racing Shox with Front Driveshaft
Fits 2012 to 2015 JK Wrangler Unlimited and Rubicon Unlimited;4-door models;Max Tire Size:35×12.50;Front fixed sway bar links
Includes four FOX 2.0 IPF shocks;Brake hose relocation brackets;Adjustable cam bolts;Rear track bar bracket;Includes double cardin front drive shaft
77070094 $995
Jeep 2 Inch Lift Kit with FOX Racing Shox
Fits 2007 to 2011 JK Wrangler and Rubicon;2-door models;Max Tire Size:35×12.50;Front fixed sway bar links
Includes four FOX 2.0 IPF shocks;Brake hose relocation brackets;Adjustable cam bolts;Rear track bar bracket
77070089 $995
Jeep 2 Inch Lift Kit with FOX Racing Shox
Fits 2007 to 2011 JK Wrangler Unlimited and Rubicon Unlimited;4-door models;Max Tire Size:35×12.50;Front fixed sway bar links
Includes four FOX 2.0 IPF shocks;Brake hose relocation brackets;Adjustable cam bolts;Rear track bar bracket
77072353 $2,250 (Available in May 2015)
Jeep 4 Inch Lift Kit for 4 Door Jeep Wrangler