Jeep Wrangler Level Red concept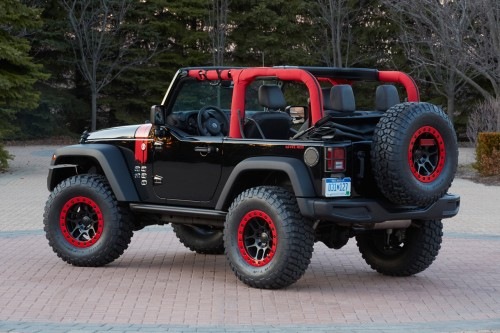 The Jeep Performance Parts Rock-Trac transfer case provides a 4:1 low range to make navigating obstacles much easier. The 3.6-liter engine with a six-speed manual transmission is improved through a cold-air intake and low-restriction exhaust system. Wrangler Level Red's crawl ratio is 73:1.
Jeep Wrangler Level Red is modified with a Mopar half-door kit, and additional exterior upgrades include a prototype Jeep Performance Parts tire carrier, a locking gas cap, a hood prop kit and Jeep Performance Parts rock rails. Wrangler Level Red also sports badges for each of the five trails in Moab recognized by the Jeep brand as "Badge of Honor" trails.